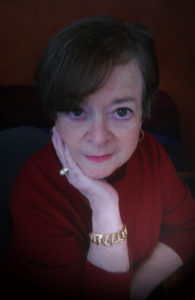 Short Bio.
Rosemary Simpson's What the Dead Leave Behind is set in Gilded Age New York where the Great Blizzard of 1888 brings both disaster and independence to her wealthy and unconventional heroine. Lies that Comfort and Betray is the second in the Gilded Age Mystery series, to be followed by Final Portraits. Rosemary is also the author of two stand-alone historical novels, The Seven Hills of Paradise and Dreams and Shadows. She is a member of Sisters in Crime, International Thriller Writers, and the Historical Novel Society. Educated in France and the United States, she now lives near Tucson, Arizona.
Longer Bio.
Rosemary Simpson was born in New York City and almost immediately began roaming.  By the time she entered college she had traveled extensively throughout the United States, the Far East, and Europe, where she found a second home in France. After she returned to the United States she earned undergraduate and graduate degrees in French language and literature. She currently lives near Tucson, Arizona.
Rosemary's favorite novel has always been Anya Seton's classic work of historical fiction, Katherine.  (She's read and reread her way through three editions that were usually held together with tape and rubber bands until another could be bought.)  The fascination lies in an inherent conflict between what we know actually happened and the frequent and gaping holes in the historical record.  Sometimes there are only a few verifiable facts on which to build a story and recreate a past event.  That's the writer's greatest and most enjoyable challenge.  She can only make up what can't be proven and cannot violate the integrity of what is known.  Writing historical fiction often means wandering through the most obscure, wonderful, and frightening byways of time and geography.
What the Dead Leave Behind is the first mystery in a series set in Gilded Age New York City.  It begins with one of many deaths in the Great Blizzard of 1888 and ends with the promise of a uniquely independent future for its wealthy and unconventional heroine.  Real life historical figures lend authenticity and a sense of familiarity to this bygone era of extravagant wealth and widespread political corruption.  The second volume, Lies That Comfort and Betray, takes protagonists Prudence MacKenzie and ex-Pinkerton Geoffrey Hunter deeper into the underworld that lies beneath society's glittering facade.
Before turning to the world of historical mysteries, Rosemary wrote two standalone novels of straight historical fiction. The Seven Hills of Paradise is the story of the Fourth Crusade, told from the dual perspectives of two men who survived the sack of Constantinople in 1204 and returned to France to record their epic adventures.  Geoffroi de Villehardouin was one of the leaders of the crusade, while Robert de Clari was among the poorest of the knights who took the cross.  "Absorbing, convincing, graphic and accurate … this novel belongs alongside those of Maurice Druon and Zoe Oldenbourg." (The Atlanta Constitution)
Dreams and Shadows is a sweeping historical novel set in colonial Morocco, New York in the Roaring Twenties, and war-torn Paris during the Nazi Occupation.  Based on stories told by family members who remained in Paris throughout the war, the novel seamlessly weaves together fact and fiction.  Publishers Weekly said, "Simpson's hauntingly graceful, dignified prose makes this tale unforgettable, as do its unflagging intensity, realism and chilling conclusion."